With this recipe, I hope I can manage to please most of you: sugar-free, dairy-free, gluten-free, vegan friendly and definitely tasty! 😀
Oh, I nearly forgot – they don't need to be baked, just mix all the ingredients and in 10 minutes your job is done!
What is this incredible deliciousness? Energy balls!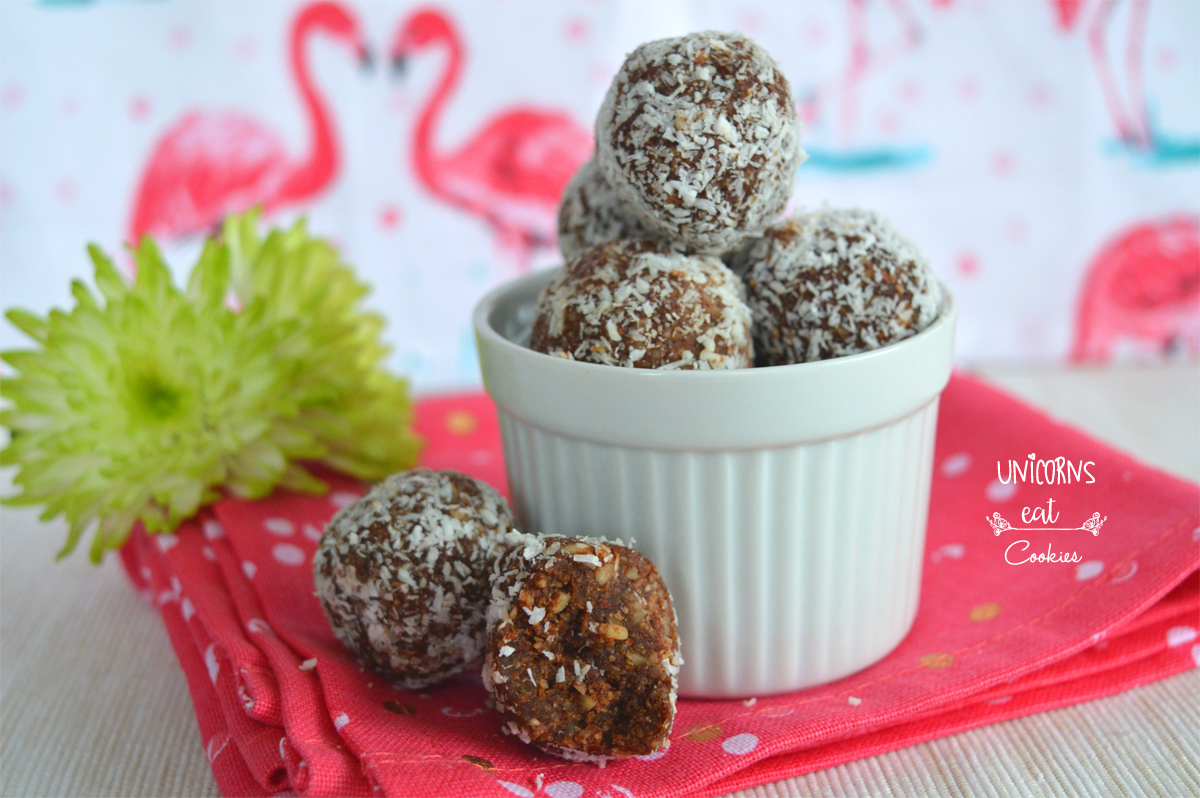 Since I started running this blog, I've chatted about baking and desserts more than ever, and I realised that you can't take anything for granted anymore. When I think "let's make a chocolate cake with nuts and cream frosting, everyone will love it!" … that isn't necessarily true anymore, as it might have been in the past. That's because these days people have more food requirements, be it because of allergies or food intolerances or lifestyle choices (such as vegans or vegetarians).
Because of this I will start exploring the "magical" and (at least for me) new world of alternative cakes (vegan, dairy-free, gluten-free…), because I want to discover different baking solutions, adding new ingredients and removing, partially o completely, other common ingredients like eggs, white sugarand dairy products.
This post was born with this intention, actually. I wanted to introduce a healthy snack, suitable for those who follow a dairy-free diet and who want to remove or limit their white sugar intake.
I do have to admit that is not a light snack (because of the dates and almonds) but it's healthy and not made with any animal fat (like fresh cream, usually used in sweets like this), for that reason they're perfect as anafternoon snack or before/after your workout.
Try them. I'm sure you will appreciate the absence of sugar, which allows the other ingredients to come out and shine.
Turn on your radio now, it's time to start. Today I fancy some jazz… some French music… ZAZ – "PARIS SERA TOUJOURS PARIS"
Tartufini senza zucchero-latte-glutine
Author:
Prep time:
Total time:
Ingredients
100 gr of flourless pitted dates
30 gr of grated coconut (plus some more for dusting)
150 gr of almonds
¼ teaspoon of salt
½ teaspoon of vanilla extracts
1-2 tablespoon of almond milk
Instructions
If the dates are a bit dry and hard you can dunk them in lukewarm water for 10 minutes. Throw the water away and dry them with kitchen roll.
Put the dates in a food processor. Turn it on and crumble the dates until you have a smooth dough (more or less 2 minutes). You can blend for 1 minute, then mix with a spoon, blend again and repeat until you get a smooth dough.
Add the grated coconut, almonds, salt, vanilla extract and turn the food processor on again for a couple of minutes. Depending of the wattage of your food processor, Continue until the almonds are broken into tiny pieces.
If the dough is too sticky and doesn't mix properly, you can add up to 2 tablespoons of almond milk, one at time (I used 2).
Take a plate or a bowl and add some grated coconut (I used 2 tablespoons).
Start making walnut-sized balls and then rolling them in the coconut.
Done!
You can store these energy balls in an airtight container in the fridge and they will last for more than 2 weeks.
Let me know if you try them and if you liked them!
See you soon! 🙂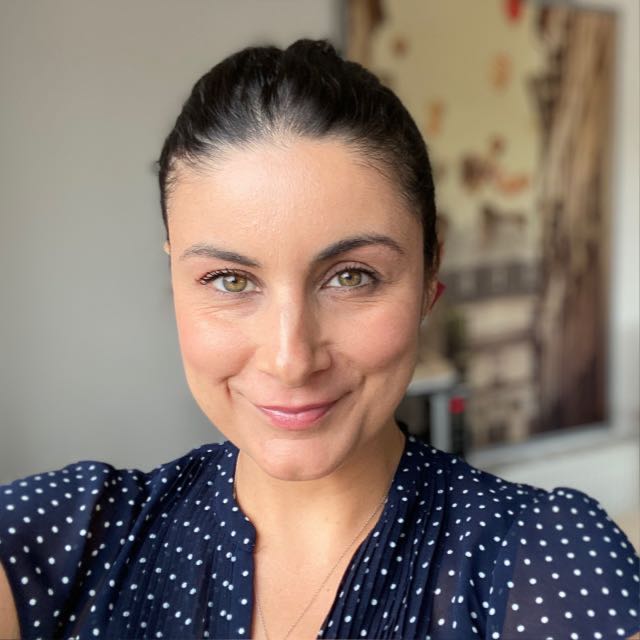 Nicole Orlando
Nicole Orlando è la fondatrice del progetto Unicorns eat Cookies, blog e canale Youtube, dedicato al mondo dei dolci ed in particolare alla pasticceria anglosassone.
Dopo anni di lavoro come cake decorator e cake baker in Inghilterra, dove tutt'ora vive, ha condiviso le sue conoscenze creando tutorial molto seguiti in rete e ora attraverso video-corsi su argomenti più specifici.
Il suo obiettivo è rendere facili anche le preparazioni all'apparenza più complicate sostituendo l'approccio rigido, che spesso viene associato al mondo della pasticceria, con il sorriso e la voglia di mettersi in gioco.
Condividi questa ricetta!